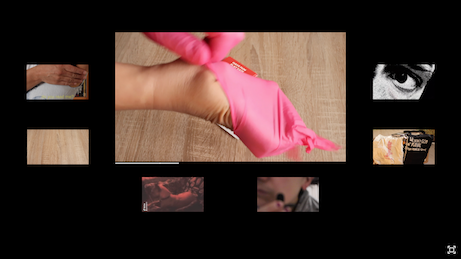 2020, interactive ASMR web-video
An interactive web-based queer ASMR piece using acoustic close-ups to show how the sum of the parts of a queer body (visible and audible) is read subconsciously in order for a perception of queerness or gender to be made. This work brings those body parts (hair on the upper lip, legs) and accessories of queer life (sequins, queer books, latex gloves) to the foreground. The questions addressed are how the digitization of human connection (all the more relevant during the COVID-19 pandemic), mediated through the touch of mouse clicks, and how audio through calming sensual whispers can bring us (queer bodies) a sense of interconnection in an ever more isolating world.
Video clips by Juli Saragosa: Title Video "Let Me In", crunchy ASMR, do you read me?, flippy sequins, no future?, notice your breath, pet me?, run outside?, sparkle with me?, stay radical and queer!, touch your face?
Video clips by other creators: creature comforts, by Mishann Lau and K.I.; exterior legs, by Harvey Rabbit; rope slide, by Ann Antidote and Lun Ário; tasty lipstick, by Mimi Monstroe
Exhibitions:
Online is the new IRL, Vector Festival – July 16 – Aug. 13, 2020
Digital Carnival Z, online media arts festival – April 21 – July 15, 2021
Credits for the adaptation for Digital Carnival Z, that includes ASL Interpretation, Audio Description and a downloadable mobile app:
Development Lead: Deanne Achong
iOS and Android Developer: Gunwoo Kim
Project Manager: Yun-Jou Chang, Minah Lee
Audio Description Consultant: Rebecca Singh, George Quarcoo
ASL Consultant: Lisz Keallen
ASL Interpreter: Jenny Laing