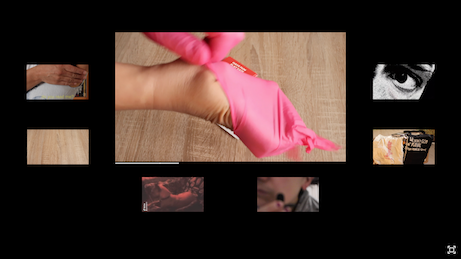 2020, interactive online video
An interactive web-based queer ASMR piece using acoustic close-ups to show how the sum of the parts of a queer body (visible and audible) is read subconsciously in order for a perception of queerness or gender to be made. This work brings those body parts (hair on the upper lip, legs) and accessories of queer life (sequins, queer books, latex gloves) to the foreground. The questions addressed are how the digitization of human connection (all the more relevant during the COVID-19 pandemic), mediated through the touch of mouse clicks, and how audio through calming sensual whispers can bring us (queer bodies) a sense of interconnection in an ever more isolating world.
Additional clips by: Ann Antidote & Lun Ário, Mishann Lau & K.I., Mimi Monstroe, and Harvey Rabbit.
It can be viewed online here. Best viewed with Firefox or Safari browsers. Does not work with Chrome.
To interact with the video:
1. Wear headphones for best listening experience.
2. Click the bottom-right icon to make the video full-screen.
3. Press spacebar to pause, or scroll with the mouse along the timeline player to skip ahead or back.
4. Pass the mouse over the Preview Clips to animate them, then select the next clip with a mouse click.
5. The clips continue to loop until you select the next one.
6. You can close the window anytime and continue from where you left off, or start again.
Exhibitions:
Online is the new IRL, Vector Festival – July 16 – Aug. 13, 2020