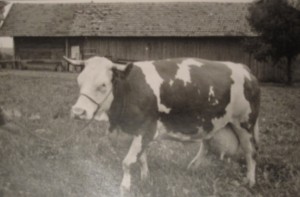 2016, HD digital video, 64mins, colour, sound
The story of my grandmother's life continues from Finding a Place to Sleep. When she was 19, she was taken from her family in urban Soviet Ukraine to work on a Bavarian farm under National Socialism. She had the luck and perseverance to survive hardships of the forced famine in her homeland and forced labour in the new one. The stories of her everyday life – learning how to milk a cow, falling in love – are interspersed with three generations of reflections on politics, longing, feelings of displacement and loss. Hand-processed black & white film, colour film, photographs and official documents create a montage of different perspectives. The hand-touch aesthetic combines with the acousmatic effect of disembodied voices, in this deeply intimate portrait obscured by memory loss, mis-translation, fear and trauma.
Watch Trailer on Vimeo.
Film's Webpage.
Watch on VOD! ——>
"More than just a passion project, but clearly full of love and passion…" – Dove Sussman
"Saragosa draws circles in history, recognizes the past in the present." – Marit Östberg

Screenings:
30.11.2016 xart splitta Filmreihe, Berlin, Germany
22.03.2017 Cineding, presented by Gedenkstätte für Zwangsarbeit, Leipzig, Germany
09.09.2017 Chouftouhonna, Tunis International Feminist Art Festival, Tunisia
07.10.2017 Baikal International Documentary Film Festival, Irkutsk, Russia
28.11.2017 Altes Finanzamt, Berlin, Germany
25.02.2018 Ausland, Berlin, Germany
25.11.2018 Grandmother Film Festival, Rotterdam, Netherlands
03.07.2019 Bildungswerk der Heinrich-Böll-Stiftung, Berlin, Germany
13.09.2019 Filmclub Moderne Zeiten, Hamburg, Germany
08.12.2019 Grandmother Film Festival, Berlin, Germany
Distribution:
Canadian Filmmakers Distribution Centre
Video Out Distribution
Collections:
Topographie des Terrors / NS Zwangsarbeit Dokumentationszentrum Berlin
IMDB Page: https://www.imdb.com/title/tt6605462